The picture book Le doré de Saint-Laurent is a wonderful little story rooted in what gives a certain Lake Manitoba Métis community its character: commercial ice fishing for pickerel, a tradition and a way of life as old as the province itself. It's an adventure told by Lucille, a young girl from the big city who visits her Métis cousin Jocelyne in Saint-Laurent, Manitoba.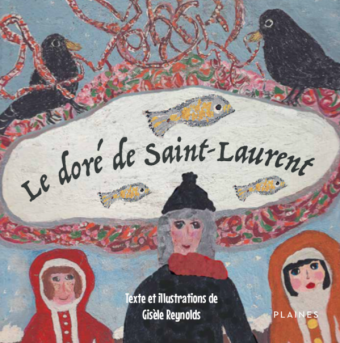 Lucille's adventure is also author and illustrator Gisèle Reynolds's adventure. "I've been coming to this part of the province since I was 13," says Reynolds. "My father had a cottage in St. Laurent. From our backyard we would watch the people who went ice fishing.
"But I had my first ride in a Bombardier when I was in my 50s. Wow, it really opened my eyes! This is what inspired me to tell this story."
Back in Manitoba after having worked in the three other western provinces, the mother of two decided a dozen years ago, after a life-changing accident, to nurture her passion for fine arts.
"I make paper sculptures and paintings. I have a style that is more comical than realistic," says the self-trained artist born in St. Boniface. "It's in the folk art tradition, which is my preferred style."
Reynolds has given workshops in schools, several of them at École Aurèle-Lemoine in St. Laurent. "I would bring my paper, my glue, and my paints. For one full hour, we would have fun," she says. "The students would sculpt and paint. Together, we undertook some small projects. One time, we made some fish for the ice fishing festival called the Manipogo Festival."
Reynolds retired about a year ago. She says, "I assembled all my paintings, I painted some others to cover all the bases, as we say, and I wrote the story. And presto! It had become a book."
Although most of her professional life was in English, Reynolds née Rougeau chose to write the book in French. An English version of the book, Ice Fishing in St. Laurent, will be published this fall.
"During my career, English was always the language of work. I was a journalist in Saint-Paul-des-Métis in Alberta, at the St. Paul Journal. I would write exclusively in English. This was at the time when the Franco-Albertans wanted their own schools. I would talk to the parents in French and then write the articles in English," says Reynolds.
"But this book, I had to write it in French. It's the language of the community, of the Métis of Saint-Laurent. And also, it seemed to flow better in French."