In Haunted Hospital, a novel for middle grade readers, a group of young teens get more than they bargained for when they take their role-playing game to the next level by exploring an abandoned hospital, said to be haunted with the ghosts of tuberculosis patients who were the victims of experiments gone wrong.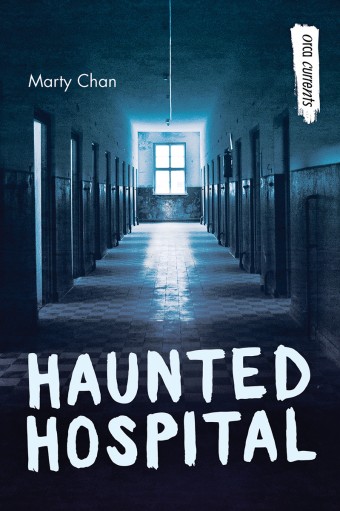 Edmonton-based author Marty Chan says his spooky story was inspired by the Charles Camsell Hospital, an abandoned facility in Edmonton, which once operated as a tuberculosis sanatorium. After years of being abandoned, it is now being renovated into condos.
Another inspiration for this novel came from student responses during school visits.
"Students kept begging me to write a scary story after I told them about my haunted elementary school," says Chan, who tours schools and libraries across Canada, using storytelling, stage magic, and improv to get kids interested in reading. "When I asked for their favourite creepy settings, they'd often suggest either an asylum or a haunted hospital."
Role-playing games have made a major comeback in popular culture, and Haunted Hospital centres on one called Spirits and Specters, which has friends Xander, Omar, and Li completing ghost hunting–style quests orchestrated by Crypt Keeper Priya.
The kids are getting tired of Priya's standard cemetery location for her missions, so Xander decides to take the lead and make George Wickerman Hospital the site for their next adventure. Despite his preparations, he is as surprised as the rest of them at what they encounter while in the abandoned hospital.
Chan is no stranger to role-playing games. In high school, he was a Dungeons & Dragons Dungeon Master, and he even had the chance to do a live action version of the tabletop game.
"My friends and I joined other D&D nerds at a golf course where we pretended to be wizards and warriors on a quest for treasure," he says. "The golfers didn't know what to make of us as we ran around the wooded areas."
And he says he'd jump at the chance to play again. "I think I still have my 20-sided die somewhere in the basement."
Haunted Hospital is Chan's second book in the Orca Currents series. These books are designed to appeal to all readers – ones who may struggle with their reading for various reasons, ones who want a fast-paced, exciting story, or, in the case of Haunted Hospital, ones who just love a good ghost story.
Chan feels he is a good fit for this series of accessible, plot-driven, high-interest books.
"I have a short attention span to begin with, so writing fast-paced stories with a lot of plot twists keeps me engaged with my own writing," he says. "I'm the kind of guy who will bail on a movie within five minutes if the plot doesn't grab me.
"I guess I'm writing these books with myself in mind as the reader."