British Columbia–based Traci Skuce's debut collection of short stories, Hunger Moon, portrays a variety of characters who are spiritually hungry and wanting more from their lives, though often unsure of what.
The author is a self-professed "sucker for the moon," for how elemental and basic it is to our earthly experience. The full moon of February – known as the hunger moon – occurs when pantries are traditionally bare, vagrants rob the henhouse, and everyone is just a little hungry all the time. It's a fitting symbol for this collection full of longing, missed steps, and unrealized dreams.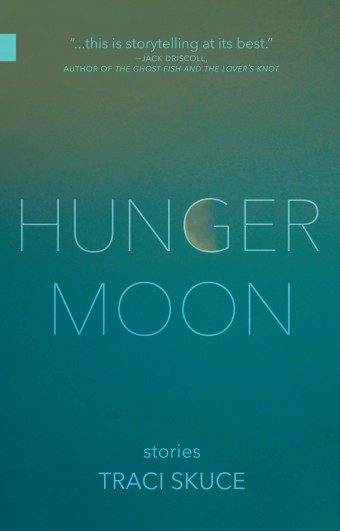 In these 13 well-crafted stories, readers will meet a bullied girl whose young sister is her only protector, two backpackers who have hiked off the beaten path under the hot sun completely unequipped, a youth on the cusp of manhood, a teenager desperate for the attention of her school crush sending her deepest desires into a mystical pink bubble, and a few exhausted mothers.
Skuce didn't intentionally choose an overarching theme for her collection; it is either something she gravitates toward or it gravitates toward her, she explains.
"Loss interests me because life is inherently filled with loss, and it's so under-acknowledged in our culture," she says. "In my family, growing up, I always felt loss acutely, whether in friendships or leaving a place or whatever. And my father couldn't abide it. His motto was 'Seize the day!' and he believed in staying upbeat, and that never felt real for me. I suppose some of these stories are a response to that."
As a new mother herself, she says she felt conflicted – as do the new mothers in her short stories. She loved her son deeply, but at the same time felt burnt out and frustrated that she was not able to pursue her life in the way she had always imagined.
"That interests me a lot in characters, the life they want, 
or believe they should have, and the one they actually get. And then the kind of spiritual crisis that's born out of that," Skuce says.
While the short stories were written while Skuce was completing her MFA program, or shortly thereafter, a number of the characters have been around for decades, waiting for Skuce to determine their fate.
"The inspiration came from all sorts of places: my experiences as a young mother, images, voices," Skuce says. "I doggedly followed those ideas in my writing practice until they coalesced and formed full-fledged narratives."
The stories have elements of Skuce's "real life" in them – her thoughts, beliefs, memories, certain incidents – but they are entirely fiction.
In "Intruder," the main event came from the news, though she built the world around it. A snake and house inspired "Bliss and a Boy I Once Loved," but the relationships are entirely fiction.
"When you're writing fiction," Skuce says, "you let go of what happened in real life and stay true to the story, to the characters on the page, who are definitely not me."